Material Selection Assistance Service
As a material solution provider for ultra-hard materials,
Top Seiko offers material selection assistance service by recommending materials based on material property important for your application. Since we do not produce materials, you can count on our unbiased material knowledge to choose the most suitable material for your application.
We offer not only materials from Japanese manufacturers but also from those outside Japan. We also have a wide variety of materials in stock for quick delivery.
You can take advantage of our comprehensive precision machining service including material selection assistance & material sourcing for your product development projects!
Moreover, there are many successful cases of material replacements which resulted in improving quality, prolonging service life, and increasing productivity / product yield. Let us help you, too!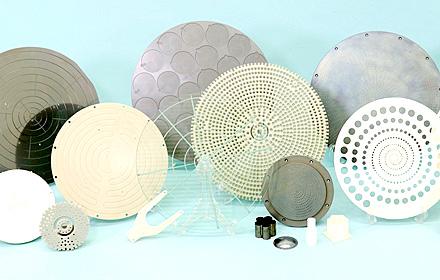 Material FAQs regarding Thermal Performance of Materials
Required Property
Applications & Problems
Commonly Used Materials
Recommended Materials
High Temperature Resistance
・The part used under high temperature environment requires frequent replacement due to its short service life, resulting in high cost and downtime.
・The part used at high temperature warps and distorts while in use, and these thermal deformations cause decreases in the dimensional accuracy of final products it produces.
Heat-Resistant
Resin/Plastic
Aluminum Alloy Steel
Stainless Steel
Fused Silica Glass
Borosilicate Glass
Alumina
Zirconia
Silicon Nitride
Molybdenum / Molybdenum Alloy
Tungsten / Tungsten Alloy
Low Thermal Expansion
・Due to its low dimensional stability, the part expands at high temperatures, causing problems in dimensional accuracy and repeatability of the final products it produces.
・A material with low thermal expansion is needed to make a part which can maintain its performance and dimensional stability without being affected by constant changes in temperature.
Aluminum Alloy Steel
Stainless Steel
Alumina
Aluminum Nitride
SiC based MMC
Molybdenum
Tungsten
High Thermal Conductivity
・A material with high thermal conductivity is required for use in fast heat removal & high temperature applications.
・Due to its low thermal conductivity at high temperatures, the critical parts for thermo-compression bonding cannot conduct sufficient heat which results in low productivity.
Stainless Steel
Heat-Resistant
Alloys
Ceramics
Molybdenum
Tungsten
Aluminum Nitride
Silicon Carbide
SiC based MMC
・It is very hard to find a material which meets all of the requirements: high temperature resistance, good thermal conductivity and excellent electrical insulation property.
Aluminum Nitride
High Thermal Shock Resistance
・The uses of low thermal shock resistant materials prevents manufacturers from improving their productivity which can be achieved by rapid heating and cooling. For example, if the mold material is not thermal shock resistant enough, rapid changes in temperature will cause distortion and cracking in molds.
Aluminum Alloy
Steel
Stainless Steel
Ceramics
Silicon Nitride
Aluminum Nitride
Alumina
Molybdenum
Tungsten.
Low Thermal Conductivity
・The part operated at high temperatures loses heat too quickly because of its thermal conductivity. This heat loss by conduction causes variations in quality of the products.
A material which can both retain heat longer and withstand high temperature is needed to replace with current material to stabilize quality.
Ceramics
Zirconia
Machinable Ceramics
Fused Silica Glass
Borosilicate Glass
High Hardness
Wear Resistance
Scratch Resistance
・Rapid wear causes a part to lose its dimensional accuracy, resulting in frequent replacement of the part.
・High scratch-resistance is required.
Hardened Steel
Conventional Metal(non-refractory)
Alumina
Zirconia
Silicon Carbide
Silicon Nitride
Tungsten Carbide
・The optical component cannot stay transparent due to the damaged surface caused by scratches and abrasion during use. An extremely hard, optical material is needed to produce high-scratch resistant optical components.
Acrylic
Glass
Fused Silica Glass
Sapphire
High Fracture
Toughness
Resistance to Chipping, Cracking and Breaking
・Alumina is a popular material for precision machined parts. However, it is brittle and susceptible to breaking, chipping or cracking due to impact.
A material with higher fracture toughness should be considered as an alternative material.
Alumina
Zirconia
Silicon Nitride
Electrical Insulation Properties at High Temperature
・A material ideal for high temperature electrical insulation applications is needed as parts require higher heat resistance than heat-resistant resins.
Heat-Resistant Resin/Plastic
Alumina
Machinable Ceramics Biron Nitride
High Electrical Conductivity at High Temperature
・An electrical conductive material with much higher temperature resistant than conventional metals is needed as they cannot withstand the intense heat.
Copper
Other Conventional Metal(non-refractory)
Molybdenum
Tungsten
High Density
・A high density material which enables the part to maintain its weight while reducing its size is required to improve the compactness of the product.
Conventional Metal(non-refractory)
Tungsten
Tungsten Alloy
Corrosion Resistance
Oxidation Resistance
Alkali Resistance
・The part rusts quickly due to its constant exposure to air and water. Replacing the metallic material with a material which can resist oxidizers is essential to end the rust problem. ・To prolong the service life of a part, it is crucial to find a material which can be used in harsh and corrosive environments that metals cannot survive.
Conventional Metal(non-refractory)
Fused Silica Glass
Alumina
Zirconia
(Zirconium Oxide)
Cost
・Cost reduction of ceramic parts with fine features and complex shapes is needed.
・High precision and complex parts in engineering ceramics are too expensive to meet cost requirements.
Alumina
Aluminum Nitride
Silicon Nitride
Silicon Carbide
Machinable Ceramics
We are pleasure to help your R&D with our high precision machining technology and our material suggestion for ultra-hard materials.

Top Seiko Co., Ltd.
1197-4, Hosoe-cho, Nagahama City, Shiga Pref., 526-0105 Japan
[ Access Map ]
Phone.+81-(0)749-51-9021
FAX.+81-(0)749-51-9022