Hole Drilling – Precision & Multiple Hole Drilling
Many parts require hole drilling process. It is one of the most common and basic machining processes. Each drilled hole usually plays an important role for the part to function and has to be produced exactly according to the specification. When drilling multiple holes in a part, it is important to set proper drilling conditions to maintain stable processing because a single failure in a hole can ruin the entire part.
We, at Top Seiko, quantify drilling load by measuring tool load to develop the most suitable drilling tool and establish the optimal processing conditions.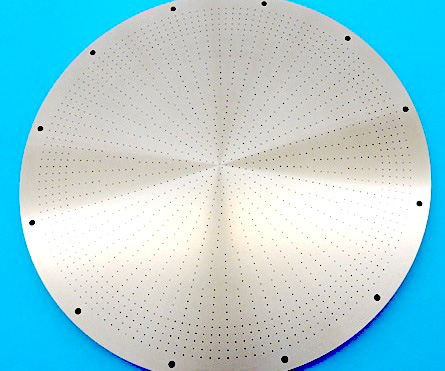 Materials compatible with our hole drilling services
Advanced Ceramics, Fused Silica Glass (Fused Quartz), Glass Ceramics, Borosilicate Glass (Tempax), Silicon, Machinable Ceramics, Metal Ceramic Composite Materials, Molybdenum, Tungsten, and Tantalum.
Hole Drilling Capabilities
Hole Diameter: micro holes, small-diameter holes, medium and large sized holes
Hole Depth: 0.05~400mm
Hole Shapes: straight, tapered, squared, and tapped holes
Hole Diameter Accuracy:±0.005~0.1mm
Number of holes per part: 1~5,000
Machines We Use
Machining Centers: 3-Axis / 5 Axis machining centers with center-through type coolant systems*,
and high speed linear-motor machining centers
Combined Lathes
Hole Drilling EDM Machine
Wire EDM Machine
*Center-through type coolant system supplies high-pressure coolant to the tool tip through the hole in the spindle and tool for effective chip-flashing, cooling and prolonging tool life.
Drilling tool materials
tungsten carbide, diamond grains, single-crystal diamond, diamond coating, and compax.
Top Seiko's Machining Capabilities for Each Material
Machining Example
Shower Plate
Machining Example: φ0.1 x 1,000 PL for Macerite SP
Gas Nozzle
Machining Example: φ0.1 x 1,650 PL for Shapal Hi M-Soft
Filter
Machining Example: φ0.05 x 6,000 PL for Machinable Ceramics
Hole Drilling Example
Drilling Example: φ0.1~φ16.0 for Alumina 99.5% plate
Custom Machined Product Examples
Micro Holes Drilling: φ0.1 x 6,000 PL
Micro Holes Drilling: φ0.1 x 3,000 PL