Silicon Nitride (Si3N4) – Custom Machined Parts
Silicon Nitride has the best combination of mechanical, thermal and electrical properties of any technical ceramic material. It is a high performance technical ceramic with high strength, toughness and hardness, and is extremely resistant to thermal shock and impact. It is also an electrically insulating ceramic material. Typically, it is used in applications where high load-bearing capacity, thermal stability and wear resistance are required.
Sialon (Silicon Aluminium Oxynitride) is a silicon nitride ceramic with a small percentage of aluminum oxide added. It is a nonporous engineering material with superior thermal and mechanical properties compared with silicon nitride. Sialon is an ideal material for applications where strength at high temperature, thermal shock resistance, and corrosion resistance are needed.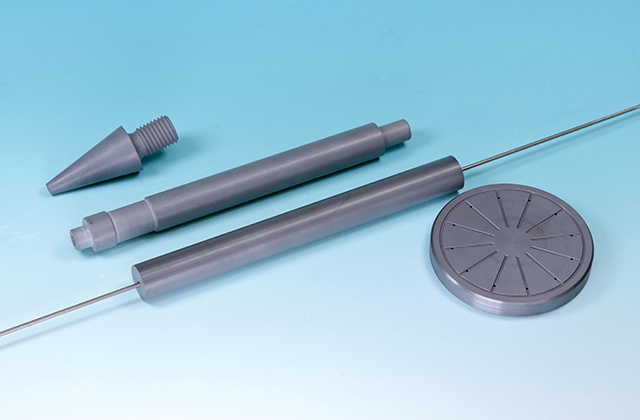 Silicon Nitride Properties
Property
(Unit)
Vickers Hardness
HV(GPa)
Flexural Strength
(MPa)
Fracture Toughness
(MPam¹/²)
Coefficient of Thermal Expansion
(×10-⁶/℃)
Thermal Conductivity
(W/(m・K))
Thermal Shock Resistance(△T)
Dielectric Strength(kv/mm)
Wear Resistance
(μm)
Chemical Resistance
Chemical Formula
Silicon Nitride
(Si₃N₄)
16
750
6
2.8
25
650
730
0.6
(Blast Abrasion Loss)
Very Good
Sialon(Si₃N₄+Al₂O₃)
12.7
690
6
1.6
21
700
-
-
-
Silicon Nitride – Key Properties & Popular Applications
Key Properties
Applications
High Strength
Silicon Nitride's high flexural strength and excellent fracture toughness make it extremely resistant to cracking, breaking and bending, and give ability to operate under extreme conditions.
■Parts subject to high stress such as automotive components and bearings.
High Thermal Stability
■High temperature strength
■Low thermal expansion
■High thermal shock resistance
Silicon Nitride retains its strength at very high temperatures.
Additionally, its low thermal expansion coefficient provides outstanding thermal shock resistance, enabling this material to withstand rapid heating and cooling without cracking.
■Parts subject to rapid and extreme temperature changes
■Parts requiring high-temperature and high-load abilities
■Crucibles for handling molten aluminum
High Wear Resistance
Silicon Nitride's high hardness and fracture toughness provide excellent wear resistance.
■Parts requiring low friction
■Fixtures for positioning and transferring metal parts during induction heating (hardening)
Available Sizes and Machining Capability
| Availability | Sizes(mm) | Machining Capability | Sizes(mm) |
| --- | --- | --- | --- |
| Plate | Φ300×t20 | Hole diameter | Φ0.1 or more |
| Rod | Φ50×300 | Hole depth | 20D(~Φ1.5)、200(Φ1.5~) |
| Groove width | 0.2 or more | Max. hole number | 100 |
| Max. Groove(pocket) depth | 30 | Thread size | M2 or more |
Ceramics List

Top Seiko Co., Ltd.
〒526-0105
1197-4, Hosoe-cho, Nagahama City,
Shiga Pref.,526-0105 Japan
[ Access Map ]
Phone.+81-(0)749-51-9021
FAX.+81-(0)749-51-9022