Zirconia (ZrO2) – Custom Machined Parts
Zirconium Dioxide, commonly known as Zirconia, is a high-performance ceramic material which exhibits excellent mechanical properties such as high hardness and fracture toughness. This makes zirconia ideal for a variety of wear resistance applications.
It is difficult to manufacture zirconia in large sizes compared to other oxide materials like alumina. In addition, zirconia is a relatively expensive material, and its use is usually limited to small parts / components which require high bending strength and resistance to fracture, chipping and cracking.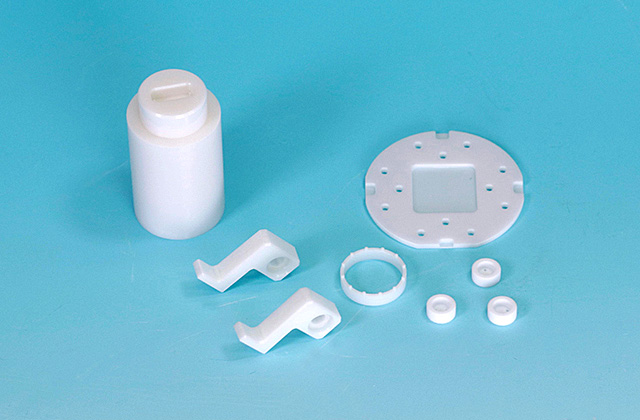 Zirconia Properties
Property
(Unit)
Vickers Hardness
HV(GPa)
Flexural Strength
(MPa)
Fracture Toughness
(MPam¹/²)
Max Use Temperature℃)
Coefficient of Thermal Expansion
(×10-⁶/℃)
Thermal Conductivity
(W/(m・K))
Thermal Shock Resistance(℃)
Chemical Resistance
Chemical Formula
ZrO₂
13
1000
6
Not suitable for very high temperature applications.
7.7
3
280
Good
Zirconia – Key Properties & Popular Applications
Key Properties
Applications
High Strength
Zirconia is an exceptionally strong ceramic. Due to its high bending strength and fracture toughness, it resists cracking, bending or breaking. It can also withstand severe impacts and heavy loads.
■High load-bearing parts
■High impact-resistant parts
■Cutting tools such as blades and knives
Low Thermal Conductivity
Zirconia is an excellent thermal insulator due to its very low thermal conductivity.
■Heat insulation parts
Good Chemical Property
Zirconia resists acid and alkali attack.
■Pump parts & valve components
Excellent Wear Resistance
Zirconia is a popular material for parts used in high friction environments.
■Wear-resistant parts
■Pistons & liners
Available Sizes and Machining Capability
| Availability | Sizes(mm) | Machining Capability | Sizes(mm) |
| --- | --- | --- | --- |
| Plate | Φ300×30 | Hole diameter | Φ0.2 or more |
| Rod | Φ50×300 | Hole depth | 150 or less |
| Groove width | 0.1 or more | Max. hole number | 100 |
| Max. Groove(pocket) depth | 30 | Thread size | M2 or more |
Ceramics List

Top Seiko Co., Ltd.
〒526-0105
1197-4, Hosoe-cho, Nagahama City,
Shiga Pref.,526-0105 Japan
[ Access Map ]
Phone.+81-(0)749-51-9021
FAX.+81-(0)749-51-9022