Composite Materials – Custom Machined Parts
Top Seiko has extensive experience in precision machining of Metal Matrix Composites (MMCs) based on Silicon – Silicon Carbide. MMCs are available in large sizes and can be more cost-effective than silicon carbide.
We also handle precision machining of Ceramic Matrix Composites (CMCs). Due to non-disclosure requirements, we cannot introduce further information.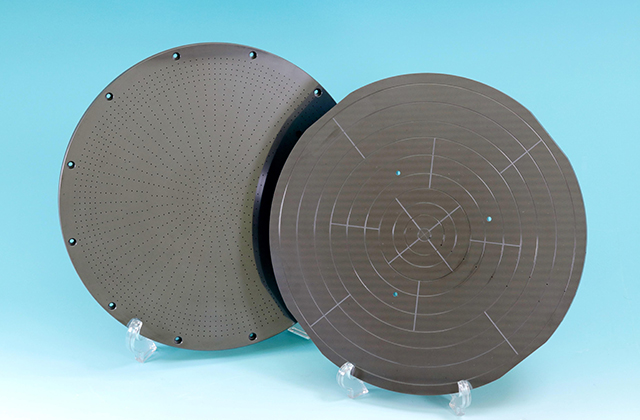 Property Comparison Table of Composite Materials
Property
(Unit)
Composition
Content Rate
(vol%)
Vickers Hardness
(GPa)
Flexural Strength
(GPa)
Fracture Toughness
(MPam¹/²)
Max Use Temperature
(℃)
Coefficient of Thermal Expansion
(×10-⁶/℃)
Thermal Conductivity
(W/(m・K))
Volume Resistivity
(μΩ・㎝)
Material
SS501
SiC
Si
50
50
-
300
3
1,200
(for reference only)
2.8
(RT~200℃)
175
2×10-2
SS701
SiC
Si
70
30
-
300
3
1,200
(for reference only)
3.0
(RT~200℃)
190
2×10-2
PARUCOCERAM SI
SiC
Si
82
18
-
250
3
1,350
(for reference only)
3.4
(RT~700℃)
220
10-1
(for reference only)
SA701
SiC
Al
70
30
-
340
8
-
7.0
(RT~200℃)
160
10-5
High Purity Sintered SiC
SiC
99
24
500
3
-
2.9
(RT)
150
>10⁶
Composite Materials – Key Properties & Popular Applications
Key Properties
Applications
Available in Large Size
MMCs are available in larger sizes than silicon carbide.
■Machinery components
■Jigs / fixtures
■Parts requiring minimum strength-to-weight ratios
■Parts subject to high temperatures or heavy loads
■Precision & intricate parts
■Heat transfer components
■Heat sinks & heat spreaders
■Vacuum equipment parts
■Parts requiring fine surface finishing by polishing
■Cost-effective alternative to silicon carbide
Good Machinability
Due to their good machinability, MMCs are easier to produce intricate and high precision parts than SiC.
This makes MMCs popular materials to replace SiC and conventional materials in many applications where stiffness and strength as well as weight reduction are needed.
Our extensive experience in precision machining of MMCs enables us to optimize machining conditions to provide our customers the best quality parts at the lowest possible prices.
High- Temperature Capability
MMCs can retain high strength at elevated temperatures.
Low Thermal Expansion
MMCs have low thermal expansion, and can maintain
Warp- & Distortion -Proof
dimensional stability when subjected to varying temperature conditions.
And other structural applications.
High Thermal Conductivity
Due to their excellent heat-conducting property, MMCs can effectively transfer (dissipate) heat.
Less Material Defect
MMCs which we handle are produced by metal (E.g. Si) impregnation method which enables low defect rate.
Available Sizes and Machining Capability
| Availability | Sizes(mm) | Machining Capability | Sizes(mm) |
| --- | --- | --- | --- |
| Plate | 600×800 | Hole diameter | Φ0.05~ |
| Rod | Φ50×400 | Hole depth | ~300 |
| Groove width | 0.05 or more | Max. hole number | 1,000 |
| Max. Groove(pocket) depth | 50 | Thread size | M2 or more |
Composite Materials – Custom Machined Parts