Alumina (Al2O3) – Custom Machined Parts
Alumina, also known as Aluminum Oxide, is the most popular ceramic material. It is a relatively low cost ceramic material with good machinability and has a very wide range of applications.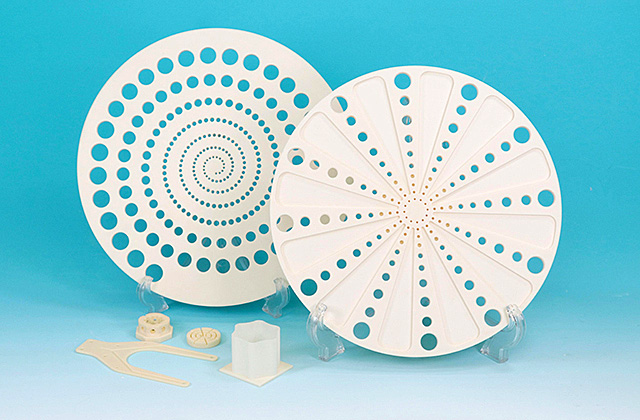 Alumina Properties
Property
Vickers Hardness (GPa)
Fracture Toughness (MPa· m1/2)
Max Use Temperature(℃)
Coefficient of Thermal Expansion(×10-⁶/℃)
Thermal Conductivity
(W/(m・K))
Thermal Shock Resistance(℃)
Dielectric Strength(kv/mm)
Chemical Resistance
Chemical Formula & Purity
Al₂O₃
99.5%
18
4
1,300
(in air)
8.5
(1000℃)
30
200
>10
Good
Al₂O₃
99.9%
18
4
1,500
(in air)
8.8
(1000℃)
33
200
>10
Good
Alumina – Key Properties & Popular Applications
Key Properties
Applications
High Hardness
Alumina has high wear resistance due to its high hardness. It also has good resistance to breaking and cracking due to its high fracture toughness and flexural strength.
■Precision parts and components
■Jigs & fixtures
■Wear-resistant parts such as nozzles, pumps, valves and thread/wire guides.
■Heat insulation parts
■Heat spreaders
■Crucibles & crucible liners
■Electric insulation parts
■High temperature electrical insulators
■Parts used in reactive gas environments such as gas distributors / showerheads, and chamber liners
■Parts for plasma chambers
■Cylinders and pistons
High Temperature Resistance & Low Thermal Expansion
Alumina has excellent thermal stability up to 1300 ℃. Because it is an oxide ceramic material, it can be used in oxidizing atmospheres at high temperatures.
Its low coefficient of thermal expansion makes it ideal for high temperature applications where dimensional stability is required.
High Dielectric Strength
Alumina has excellent dielectric properties.
Good Chemical Resistance
Alumina has excellent corrosion resistance. It resists attack by most gases including acid gases. It is also plasma resistant.
Good Machinability
Alumina has a good machinability compared to other engineering ceramics. Because it has been a popular ceramic material, we have extensive experience in machining it. Machining to micron accuracy is possible.
Available Sizes and Machining Capability
| Availability | Sizes(mm) | Machining Capability | Sizes(mm) |
| --- | --- | --- | --- |
| Plate | 500×800×30 | Hole diameter | Φ0.1~ |
| Rod | Φ100×300 | Hole depth | ~300 |
| Groove width | 0.05 or more | Max. hole number | 3,000 (approx.) |
| Max. step height | ~70 | Thread size | M1.6~ |
Ceramics List

Top Seiko Co., Ltd.
〒526-0105
1197-4, Hosoe-cho, Nagahama City,
Shiga Pref.,526-0105 Japan
[ Access Map ]
Phone.+81-(0)749-51-9021
FAX.+81-(0)749-51-9022