e-newsletter backnumber vol.17
2022.02.14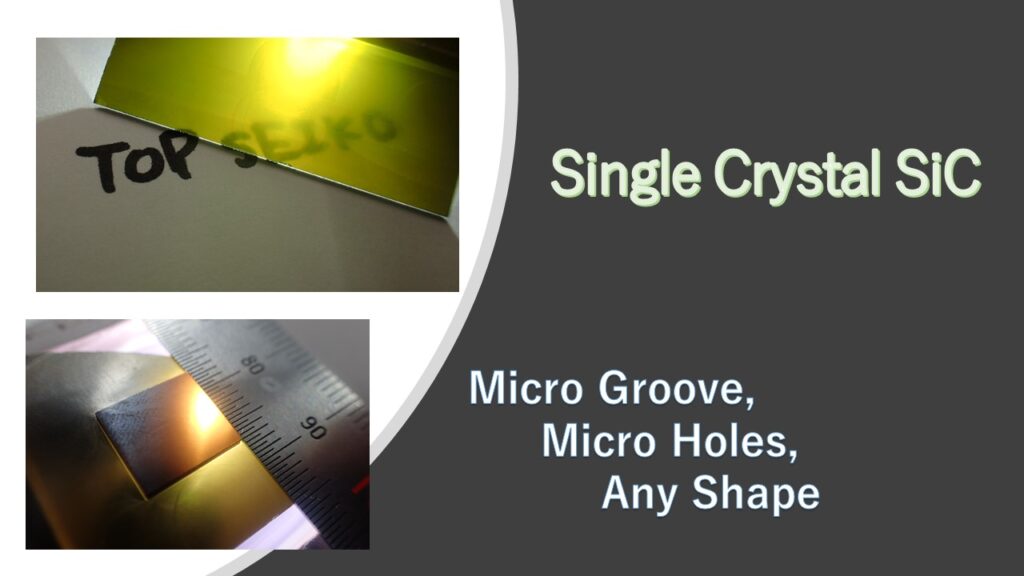 What Is "Single Crystal SiC?"
  -Let's Learn about Highly Thermal Conduct and Transparent Material!
Today, I am introducing a unique ceramics material, single crystal SiC. We started to machine this material very recently and exploring the best machining condition every day. Here are some specifications of single crystal SiC below.
First of all, it has high thermal conductivity (420~490 W/mK,) and it is about third times silicon's thermal conductivity. Single crystal SiC has an advantage in electrical features as well. For example, its bandgap is high like 3.23eV, and this makes its breakdown field strength large. What is more, it has chemical resistance and radiation resistance, and therefore, it is gathering attention as a semiconductor material these days.
The color is basically deep green or beige; they differ according to the type. As same as quartz glass or sapphire glass, it became transparent when polished.
If you are interested in single crystal SiC parts, please do not hesitate to contact us.
We can provide you precisely made objects.
No matter how hard.
In any shape.
Drilled, grooved, in any way you need them to be.
Thank you for staying with us!
If you found this newsletter interesting, don't hesitate to forward it to your coworkers!