e-newsletter backnumber vol.24 – New Composite Material – lightweight, high rigidity, low thermal expansion
2022.03.02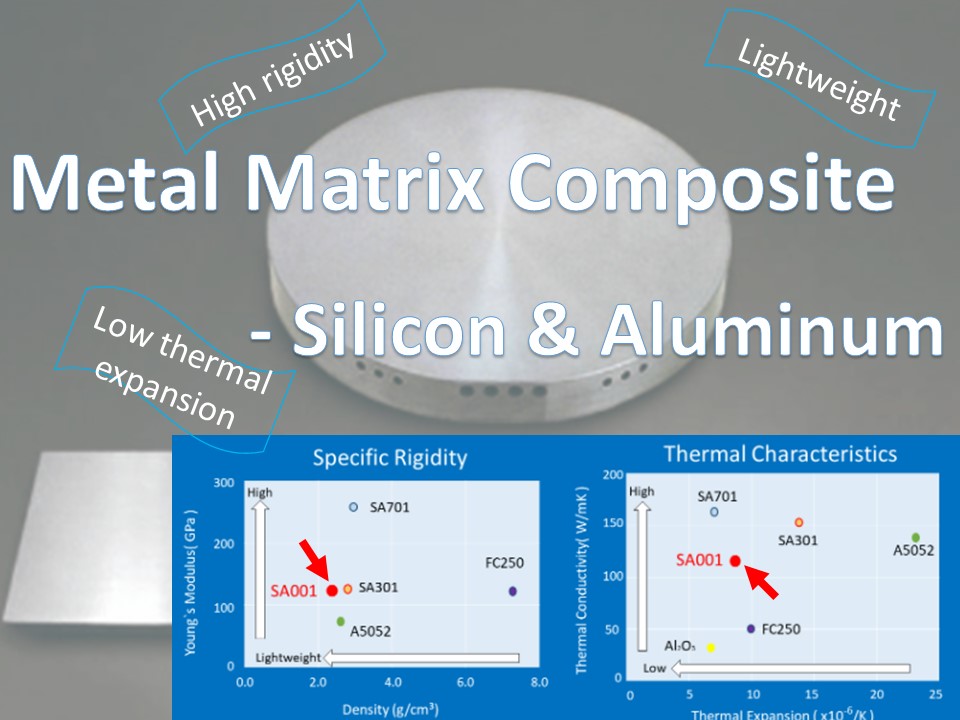 New Composite Material – lightweight, high rigidity, low thermal expansion
I have taken up composite material called MMC as one of the past topics. (e-newsletter back numbers vol. 8 https://top-seiko.com/news/541…) The general composite material we use is Silicon-SiC or Aluminum-SiC material, but the one I would like to talk about today is the composite material of Silicon-Aluminum.
First of all, the outstanding advantage of this material is its lightweight. It is lighter than aluminum (2.4 g/cm3), and you can consider this material as an alternative for weight saving. Secondly, it is superior in rigidity. The young's modulus at ~200 Celsius degrees is 120 GPa, and it is 1.7 times aluminum. Its low thermal expansion is also attractive, and it almost equals cast iron.
The material supplier still does not have so many companies that can machine the material, however, we can machine it. If you find yourself interested in this material, please feel free to contact us. We would consider and offer you a quote in short.
We can provide you precisely made objects.
No matter how hard.
In any shape.
Drilled, grooved, in any way you need them to be.
Thank you for staying with us!
If you found this newsletter interesting, don't hesitate to forward it to your coworkers!