e-newsletter backnumber vol.28 – Micro-Drilling Update for Tungsten
2022.06.11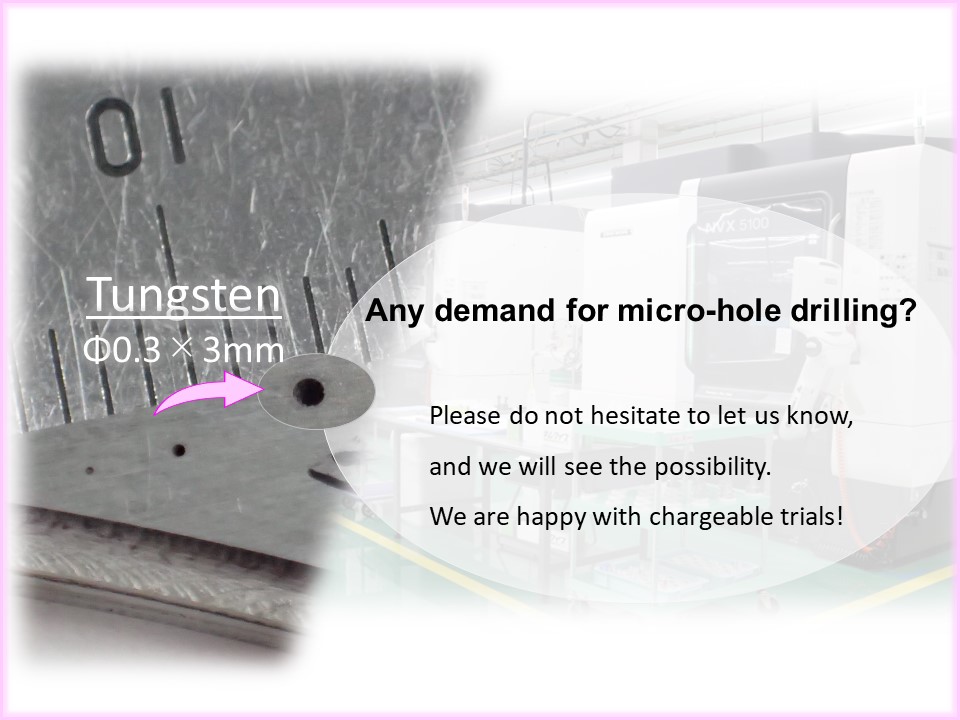 Micro-Drilling Update for Tungsten
The main topic today is micro-drilling for tungsten. It is a very hard metal and has many advantages such as high heat resistance (max. use. 3000℃,) high thermal conductivity (100~160 W/(m・K,) and high density (19.3 g/cm3.)
It is difficult to set a limitation with the aspect ratio until we take a machining test, but this time, we have achieved drilling a 0.3mm diameter hole in 3mm deepness. For tungsten, it seems to be the minimum-longest hole that we can drill with our current drilling technology. If you have any demands for micro holes and would like us to see the possibility, please do not hesitate to let us know. We will be happy to try.
We can provide you precisely made objects.
No matter how hard.
In any shape.
Drilled, grooved, in any way you need them to be.
Thank you for staying with us!
If you found this newsletter interesting, don't hesitate to forward it to your coworkers!